Description
This special type of fabric is called Spread Tow fabrics or STF. STF increases the performance as well as reducing the laminate weight up to 20%. In this fabric the carbon fiber tows are spread out into thin tapes that can range from 20mm up to 50mm in width. This particular fabric is constructed with a 25mm width tape. In a typical woven 50″ 3k Plain Weave 200gsm fabric you will have about 23,000 places where the weave overlaps or also called a crimp. Each crimp in the fabric has a very small area where excess resin will accumulate. With these TeXtreme fabrics you eliminate the amount of crimps by over 90% which in turns eliminates the amount of area where excess resin can accumulate. They are very small amounts but in one yard you reduce over 21,000 of these super small resin pools. This reduction in excess resin will yield a part that is almost 20% lighter than a standard laminate. In addition to the light weight advantages, you also have very minimal fiber crimp which will yield parts as strong as a uni directional laminate. TeXtreme fabrics come in three different strengths. HS for High Strength, IM for intermediate modulus and HM for high modulus.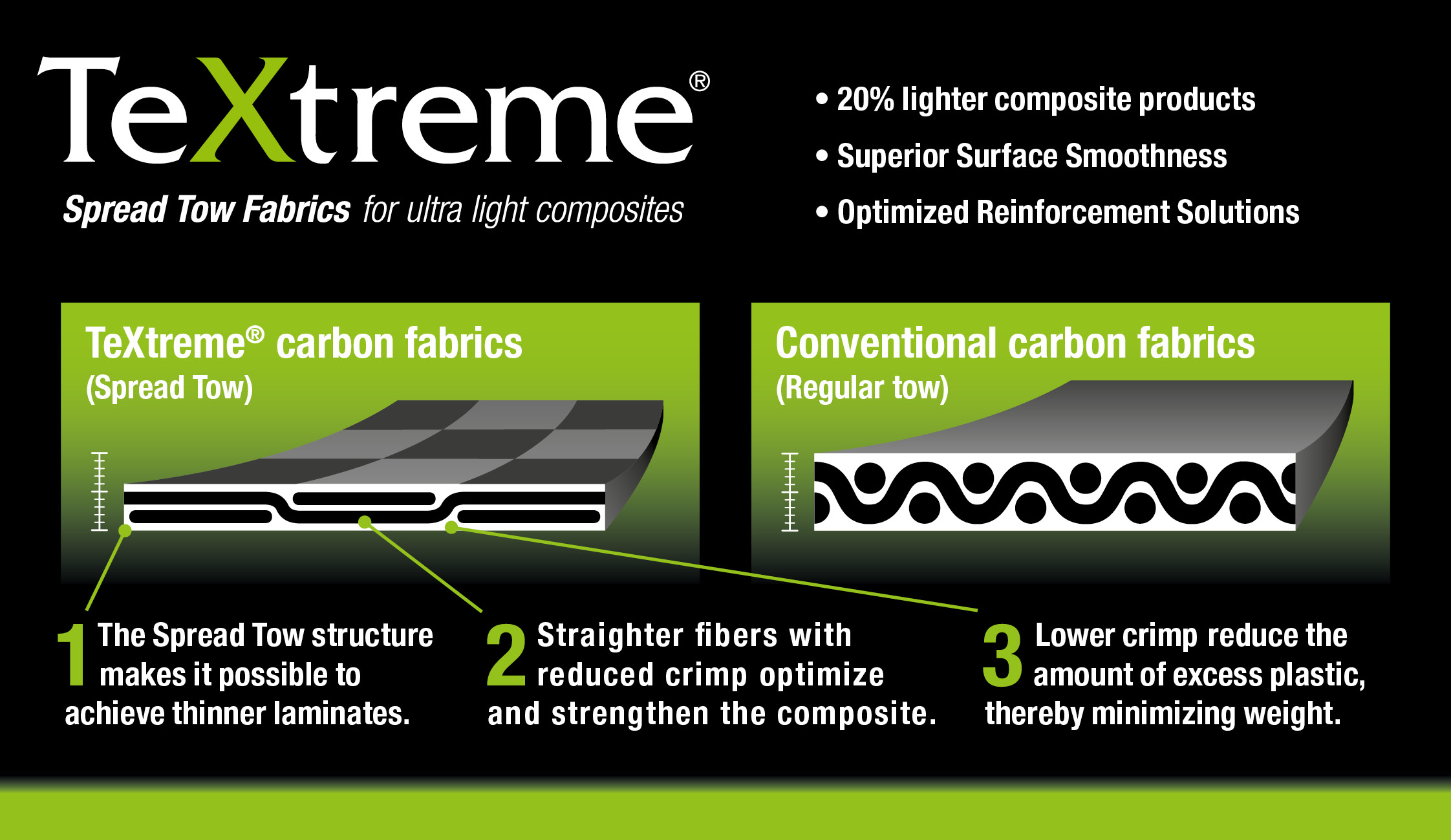 This material has been lightly coated on one side with a formulated epoxy binder to hold the material together for handling and cutting. This material will not fray apart when cut and has similar working properties to a prepreg. The weight of the fabric does not include the weight of the binder, however the weight of the binder can be included in the amount of epoxy needed for the laminate. For the best cosmetics, the side without the binder should be placed onto the mold surface. The fabric is shipped with a plastic liner on one side to prevent the binder from sticking to the layer beneath it. The binder will start to soften at 65° F for improved processing at room temp.
Key Benefits to TeXtreme:
Reduced weight by 20% or more.
Able to achieve lighter and more cost effective material than any 1k carbon fabric
Smoother and less porous surface finish than traditional woven fabrics
Unique, distinct and highly desirable appearance
Increased marketing benefit for using materials that are currently in use in F-1 and NASCAR racing
Less Epoxy needed which lowers Epoxy Costs
Where is TeXtreme Used? TeXtreme is often used in only the highest quality parts you see around. It has become a standard material in Formula One Racing. This material also has been used in nearly every NASCAR Sprint Cup car you see on the track. Take a look inside Kurt Busch's dash cam next time you watch a race. You can easily see the distinguished TeXtreme material used inside the vehicle. This material also helped TEAM ORACLE USA to victory in the Americas Cup. As you can see these are the best of the best and TeXtreme gives each team the advantage in these sports to deliver the most performance possible. As for commercial goods. Bauer hockey sticks and a few golf shaft manufacturers have developed class leading products with the use of TeXtreme materials. If you want the best of the best, TeXtreme is it.
If you do not see what you like here contact us for more TeXtreme Spread Tow reinforcement options, consisting of either UD tapes or fabrics. We have capabilities to provide the fabrics with different weight tape in the warp and the weft. We can do an 80gsm tape in the warp and a 40gsm tape in the weft which would be useful for making surfboards or other applications where you need more strength in the one direction vs the other. We also are able to arrange a weave in various degrees so you can choose a fabric that has the fiber oriented in the perfect angle for your product to achieve the absolute best performance possible. We also have capabilities to provide other material types such as aramid, zylon, Innegra. The fibers can be woven together, side by side or spread evenly through the same tape.
To harden the raw fabric into a usable form, you will need the appropriate resin or epoxy for your project.