Red Reflections 2x2 Twill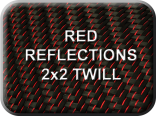 To ensure longevity of the panel, we highly recommend a clear coat with UV Protection be applied to the face of the panel for panels which will be exposed to sunlight.

Note: Lead times for standard panels listed on our site will range from 1-5 business days. We try to stock as many panels as we possibly can but with the limitless number of size, thickness and color combinations, sometimes it is not possible. If your order is time sensitive please call and check to confirm availability and the current approximate lead time for your order.
Refine-search